The Places and Faces of Ontario
Paint Ontario's annual art exhibition and sale is fast approaching!
Through the auspices of the Grand Bend Art Centre, a team of dedicated and enthusiastic volunteers brings the show to fruition through every stage of production, from conception to the finished product. Our volunteers realize the important role Paint Ontario plays in the creative community and are proud to commit their time and talents to making it a reality. Not only does this prestigious show give artists the opportunity to be seen and to sell their works, the monies raised in commissions go straight back into cultural development within the community. The Grand Bend Art Centre is a non-profit organization which provides, among many other things, a music program to the local school, grants to individuals and organizations who contribute to arts in the community, and arts camps for kids.
March 29 to April 20, 2019
Opening Night Reception – March 29 from 4 to 9 -free admission – Awards Presentation at 7 – Cash Bar
Show visitors will enjoy a Saturday bar featuring an Ontario wine and great craft beer. Local restaurants will be offering "Paint Ontario Specials" throughout the three weeks of the show.
Open 10 until 5  week days and 11 to 5 weekends
Admission: $5 for adults   $4 for students and  $3 for children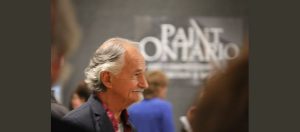 The Places and Faces of Ontario takes place this year from March 29 to April 20, 2019, one week later than previously. This puts the show into a better time slot for weather and travel and will allow the area's many "snowbirds" to attend.
Paint Ontario is well known as a showcase for painters' diverse Ontario images. This year, we continue the Faces of Ontario portrait award. This has added a new dimension to this already inspiring show.
We continue live demonstrations during show hours by local artists and the very popular weekend refreshment area where visitors can relax with a glass of wine or beer from a local winery or craft brewer, complemented with some tasty, locally sourced snacks.  Come, hang out and enjoy a total Paint Ontario experience!
Everybody is invited to the opening reception on March 29. This also kicks off an "Arts Season" which will run in to the Arts, Eats and Beats studio tour weekend at the beginning of May.
The Grand Bend Art Centre, organiser of Paint Ontario, is planning activities at the show and around town including artist workshops. We are very excited to welcome Brian Smith and Jamie Jardine as workshop facilitators this year. We will also have four life drawing sessions over the course of the show.
Live painting demos will be taking place at the gallery throughout the show by local artists including Paul Abeleira, Francis Martin, Layne VanLoo and Elaine Guitar-VanLoo, Red Dog George, Martina Bruggeman, Jamie Jardine, Marion Anderson and Teresa Marie Phillips – Executive Director of the Grand Bend Art Centre.
New this year is a series of art talks which will take place in the media room at the Lambton Heritage Museum. Marion Anderson, Donna Andreychuk, Anna Koot  and Fran Roelands will bring fascinating insights into their work, making their creative process more accessible to their appreciative audience.
As well, look out for events by partnering groups and businesses around the area, during this time period.
Stay and Play Special $99 Room Rate, plus complimentary show admission at two excellent Grand Bend hotels (both have swimming pools):

Pine Dale Motor Inn – click here to make a reservation.
Oakwood Resort – click here to make a reservation

Groups of visitors can arrive courtesy of Wave Transportation and Tours. Contact 548-388-9283 to arrange personalized transportation for your group within 100 km of Grand Bend.
So, mark these dates on your calendar, tell your friends and come enjoy Paint Ontario and the area arts season.