The Grand Bend Art Centre is pleased and proud to introduce our two new summer students, Kaitlin Wong as our Arts Educational Assistant, and Laura Brooks who will be helping us as our Community Arts Outreach Worker! Welcome Kaitlin and Laura!
First day at the Youth Centre for new art student workers! Teresa Marie Phillips is introducing Kaitlin Wong and Laura Brooks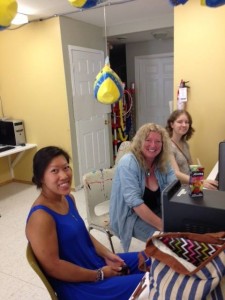 to their exciting new duties helping GBAC with children's art classes at the Y and many exciting community outreach projects!