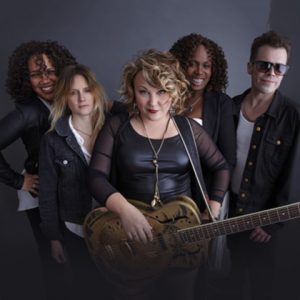 Bubbling up from the cauldron of roots Americana music, Samantha Martin is an artist of extraordinary power and deep-seated emotion.  One is immediately struck by the awesome presence and sheer magnitude of her other worldly voice.  Cigarette-ravaged and whiskey-soaked in the extreme, Martin's pipes are capable of conveying an infinite range of emotions, bringing one to tears in one instance and in the next uplifting one's soul with an empowered declaration of hope, faith and desire.  As a vocalist her roots lie squarely within the wellspring of powerful, strong women's voices embodied by such forbears as Mavis Staples, Etta James and Tina Turner.  As a songwriter, she draws on black gospel and southern soul with a hint of roots country and sixties pop, while her lyrics suggest an old soul with wisdom beyond her years.
On May 6, the Grand Bend Art Centre presents Samantha Martin and Delta Sugar in concert at The Gables.  The Grand Bend Art Centre has brought many top American and Canadian musical performers, mainly in the blues/jazz genre, to the area over the past seven years.  With 2017 being Canada's 150th anniversary, the GBAC board was keen to present a top Canadian act this year, one that combines traditional musical tastes with vitality and significant new original material.  Samantha Martin and Delta Sugar fulfills this mandate admirably – and than some!   While Martin is a powerhouse unto herself, her "co-vocalists" Sherie Marshall and Stacie Tabb, give Delta Sugar a vocal blend that is pure, unadulterated neuron-tingling magic and guitarist Mikey McCallum adds Delta-inspired, mystery-inflected guitar lines to result in a sum that is even greater and richer than the soul-melting parts!
In the past three years, Samantha Martin and Delta Sugar have toured Canada and Germany, playing venues that include Roy Thompson Hall and Massey Hall, together with festival stages from coast to coast.
The show is scheduled to coincide with Grand Bend's annual studio tour weekend, "The Stars Come Out".  All proceeds go towards funding of the Grand Bend Art Centre's programs, in particular Grand Bend's Community and School Music Programs.  Tickets, $40.00 in advance ($45.00 at the door) as previously, are available from the Colonial Hotel, Baillie's Picture Framing and www.ticketscene.ca . Doors open at 6:00 PM with a special pre-concert menu; showtime is 7:30 PM.
For more information, contact Peter Phillips 519-238-5873; peterphillips@hay.net