CANCELLED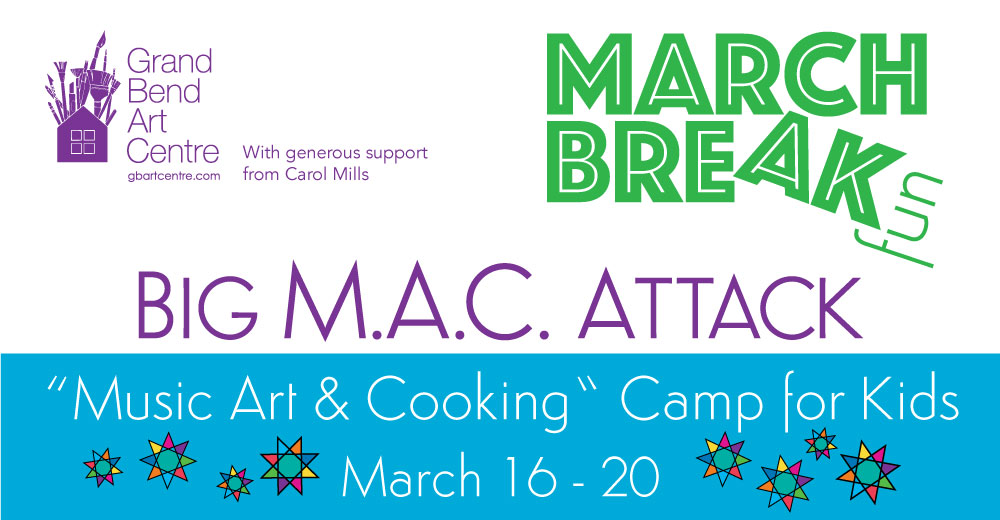 Monday | Tuesday "Get Cooking"
Chefs Aaron and Paul will create fun-filled days in the kitchen. Every boy and girl who has been in our summer cooking camp will tell you how much fun they had. Kids will be hands-on mini-chefs learning food safety and handling while they build confidence in the kitchen. Simple cooking techniques are fun while creating easy recipes they get to eat. Only bring any extra snacks needed for these yummy camp days.
Wednesday | Thursday | Friday "Art & Music"
March Break boredom won't happen when kids create with Candice Eason and rock with Jimmy Fuller. These three days will combine music with hands-on art. Sounds lively doesn't it! The Art Centre has lots of rooms for jamming and cooking at the same time.You can bring your own instrument if you have one and ROCK the Centre with renowned music teacher, Jimmy. Then create with paint, pottery and whatever else is around. The possibilities are endless. Bring a lunch for these three creative days.
Programs run from 10 a.m. to 3 p.m. $150 for the week. $40 for a day Pre-registration required. (up to day before) Ages 6 – 12 yrs. Limited space available.
Program Coordinator: Cathy Bossenberry
For online registration CLICK HERE.
Enquire by email CLICK HERE
To view the flyer CLICK HERE
For information call: 519-238-1155 or 519-859-1662
Grand Bend Youth, Art & Community Centre is located on 16 Municipal Drive just off Ontario St.