The Grand Bend Beach House Art Installation is a project of the Grand Bend Art Centre. Since the Beach Enhancement Project was completed many years ago it has always been a goal of Teresa Marie, Executive Director of the Art Centre, to present local artists' work in a revolving art show on the Beach House.
We are looking for submissions from both artists and photographers. Replacement of the original murals with the second installation begins summer 2021.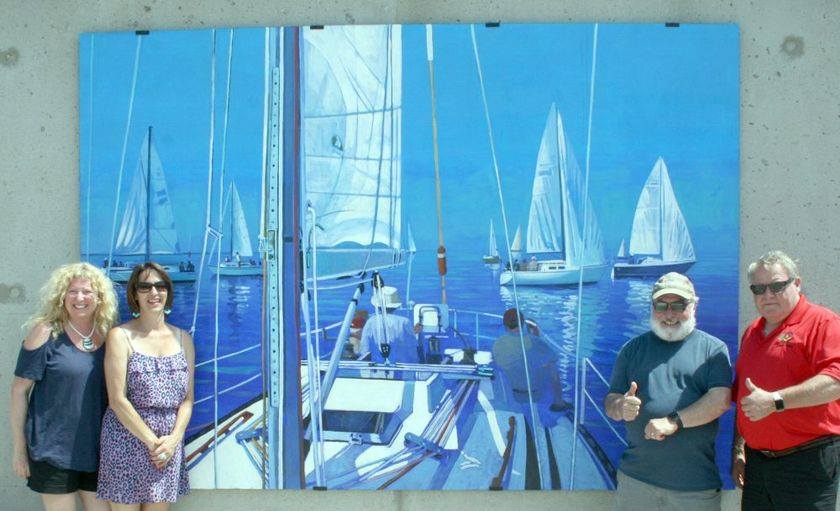 Artists who contributed work to the inaugural installation include:
David Bannister, Barry Richman, Suzette Terry, Teresa Marie, Francis Martin, Jeffrey George, Candice Eason and Kristyn Watterworth
The project was generously supported by:
Be sure to check out the Grand Bend Art Centre's Beach Mural Project. Right down on the beachhouse you can view 15 beautiful pieces produced by local artists.
If you happen to love this display as much as we do you can take it home with you!!!
Track21 Graphix Inc has partnered with the Grand Bend Art Centre and are offering reproductions of all 15 pieces in various sizes and on a variety of materials.
This will be offered for a limited time and there are a set number of reproductions available so be sure to call or click to get yours today!!!
For current pricing and details:
Track 21 in Exeter: 519-237-3838
ALSO AVAILABLE ON CANVAS!
People still enjoy giving and receiving cards. The GB Art Centre has partnered with Track21 Graphix in Exeter to reproduce the Beach Murals and put them on high quality cards.
A package of 15 cards with envelopes are $20. The insides of the cards are blank. We do have a limited number available right now, so you can message us (use the contact form in the menu) or:
Call Track 21 @ 519-237-3838