The Rotary Club of Grand Bend is one of the major sponsors of a unique metal sculpture, installed this year in the vicinity of the Rotary Community Stage, at Grand Bend's Main Beach. The project was initiated by the Grand Bend Art Centre which is also responsible for the popular and nearby Beach House murals.
"Stewie the Sturgeon" is the creation of renowned Ontario metal artist Scott McKay of Strong Arm Forge, who has been a frequent visitor to Grand Bend for many years. McKay's work can also be found locally at Southcott Pines Clubhouse and prominently across the province in places such as St. Thomas and Thunder Bay. Stewie, twelve feet in length, has quickly become a Grand Bend icon, capturing the attention of visitors and local residents alike. Pictured here alongside Stewie are Rotarians and Grand Bend Art Centre Board Members, at a sponsorship cheque presentation ceremony, on October25th.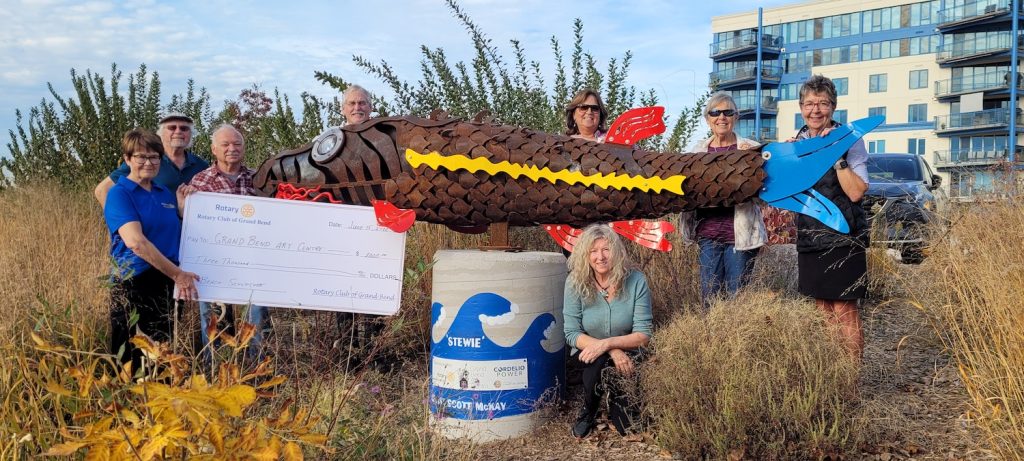 Another fun and much appreciated addition to the same vicinity, this interactive music themed sculpture acts as a great photo opp! Created by Murals in Metal located in nearby Lucan Ontario. A family owned business since 2004, Murals in Metal specializes in custom metal signs and murals for home, garden or business. They wholesale all across Canada and parts of the U.S.