Candice Eason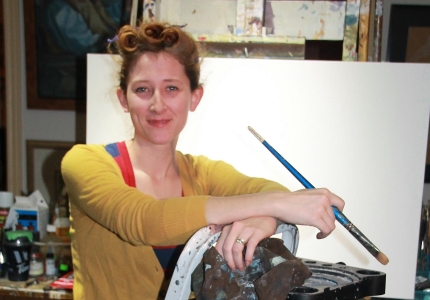 Candice is our emerging artist.  Coming from a 12 year professional career in the Scenic Arts she has recently downsized in so many ways.
She moved from the GTA back to her home town of Grand Bend.  Instead of running a theatre crew, she runs the lives of a new husband and baby boy.  From props to crib paraphernalia, from wardrobe to diapers, from set design to setting a table, from live theatre to real life.
And from scenic backdrop to canvas.  She has always enjoyed painting but now has the opportunity to dedicate time to her easel art.  She is attracted to still life.
She is also a sci-fi fan. Candace's recent series of paintings is entitled "Abandoned Time Machines." Though she still accepts occasional theatre work (with, for examples, Huron County Playhouse and Theatre Orangeville) she is thrilled to be part of the art community.