The Grand Bend Beach House Art Installation is a project of the Grand Bend Art Centre. Since the Beach Enhancement Project was completed many years ago it has always been a goal of Teresa Marie, Executive Director of the Art Centre, to present local artists' work in a revolving art show on the Beach House.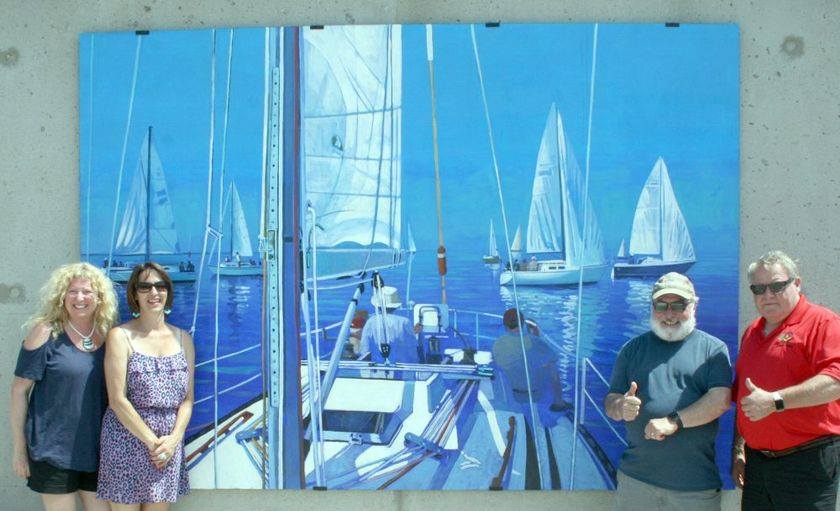 Artists who contributed work to the inaugural installation include:
David Bannister, Barry Richman, Suzette Terry, Teresa Marie, Francis Martin, Jeffrey George, Candice Eason and Kristyn Watterworth
The project was generously supported by:
Replacement of the original murals with the second installation begins summer 2021.
Visitors to Grand Bend's main beach have been enjoying this beautiful display of murals for several years now – and it's time to change it up! We are replacing the existing murals with new designs. Submissions are currently closed, and the selection of winning designs is well underway. Artists who submit winning designs will move forward to create final art murals to be displayed at the beach for two to four years. Current murals will be offered for sale and, as soon as the details are worked out, you will find out how that will happen – so be sure to check back often if you're interested!
If you happen to love this current display as much as we do you can take it home with you!!!
Track21 Graphix Inc has partnered with the Grand Bend Art Centre and are offering reproductions of all 15 pieces in various sizes and on a variety of materials.
For current pricing and details:
Track 21 in Exeter: 519-237-3838
ALSO AVAILABLE ON CANVAS!